When all you need is to make one cup of your morning elixir at home or in the office, the best single-cup coffee maker is the perfect appliance to own. These appliances offer speed and convenience, ensuring that you make that cup of coffee exactly the way you want it. There won't be any wasted coffee or water, and you can be guaranteed a fresh, hot cup of coffee every single time. The problem is, not all single-serve coffee makers are created equally. With so many brands and models in the market, how do you choose the most suitable one for you? Check our list of the best single cup coffee maker for your caffeine fix.
Nespresso Vertuo Next by Breville: Best Overall
You'll love the Nespresso Vertuo Next for how fast it can prepare your coffee. It takes just 40 seconds to heat up, and can also brew an 18oz. carafe for when one cup of joe isn't enough. It can also make the standard 5oz., 8oz., and 14oz. options and single and double espresso shots.
The machine uses a barcode recognition system to detect the exact type of coffee pod you've placed. It then adjusts the extraction process, including volume, flow, and water temperature to deliver the best results.
Special Features:
Made of partially recycled materials
Has an energy-saving automatic turn off
Slim design at just 5.5 inches wide
Pros:
High pressure
Made from recycled plastic
Cons:
Lacks built-in milk steaming
Keurig K-Elite: Best Value
The Keurig K-Elite single-serve coffee maker is a top-performing appliance that consistently delivers flavorful, full-bodied, and smooth coffee. It features an easy-to-use control panel that has simple buttons that let you choose from five drink sizes (from four to 12 ounces) and regular, strong, or iced brews.
The Keurig K-Elite boasts the largest water reservoir at 75 ounces (around nine cups of coffee), meaning you won't have to refill constantly. You can even use your own ground coffee, but you'll need a reusable filter attachment, purchased separately.
Special Features:
Has an auto-on feature that you can set the exact time you want it to turn on
A 75-ounce water reservoir
Use K-Cup or reusable filter filled with ground coffee
Pros:
Can brew iced coffee
Large water tank
Cons:
Lengthy warm-up process
Water level not visible from the front
Mr. Coffee Single-Serve Iced and Hot Coffee Maker: Best for Iced Coffee
Are you one of those guys that enjoy iced coffee, even during the winter months? Then Mr. Coffee Single-Serve Iced and Hot Coffee Maker, considered as one of the best single cup coffee makers, is a must-have. Fitted with a reusable tumbler and coffee filter, this machine can make 16oz. of bold, pod-free hot coffee, or 22oz. of iced coffee.
It's designed with an integrated measuring system to make it easy to brew the perfect water and coffee and ice ratio.
Special Features:
Brews in under four minutes
Integrated measuring system
Drip-stop function
Reusable tumbler and coffee filter
Pros:
Cheap
Customizable flavoring
Hot and iced coffee brews
Cons:
Hamilton Beach Scoop Single Serve Coffee Maker: Best for Grounded Coffee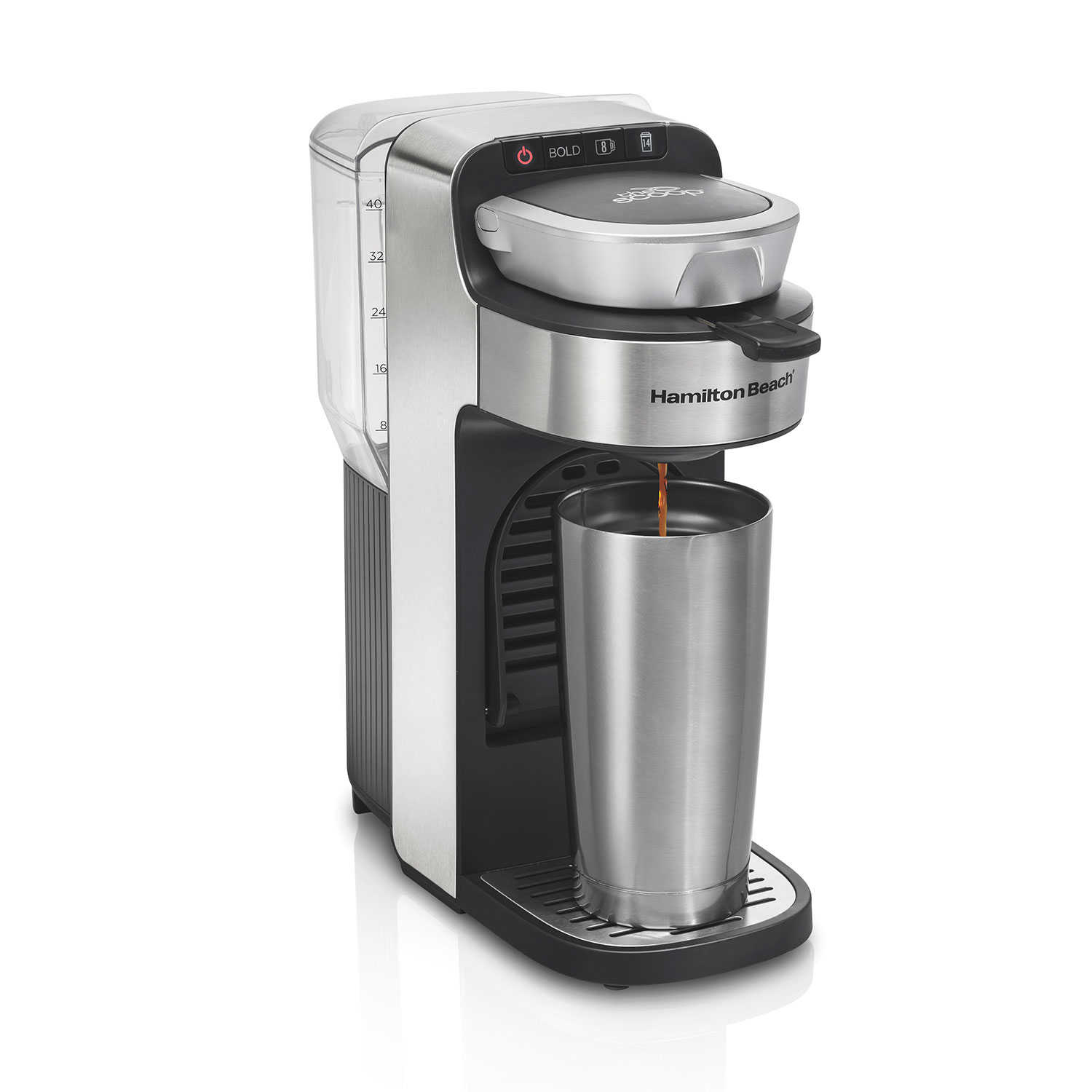 The Hamilton Beach Scoop Single Serve Coffee Maker can brew an 8-ounce cup in just under 90 seconds! It takes about 2.5 minutes to brew 14 fluid ounces. The machine comes with a single-serve scoop designed using a mesh filter, an automatic drip option, and an automatic shut-off system.
There's also a spill-resistant drip tray that reduces mess, cutting down clean-up time, plus a built-in adjustable stand to accommodate different cup sizes. If you are looking for the best single cup coffee makers, this is one of the ones you should consider.
Special Features:
Capacity: 14 fluid ounces
Made of durable stainless steel
Automatic shut-off after brewing
Spil resistant drip tray
Pros:
Quick-cleaning process
Adjustable stand
Ability to adjust brew strength
Cons:
Prone to overfilling
Poor filter system
Some users reported a plastic-like taste
Black + Decker Single Serve Coffee Maker: Best Cheap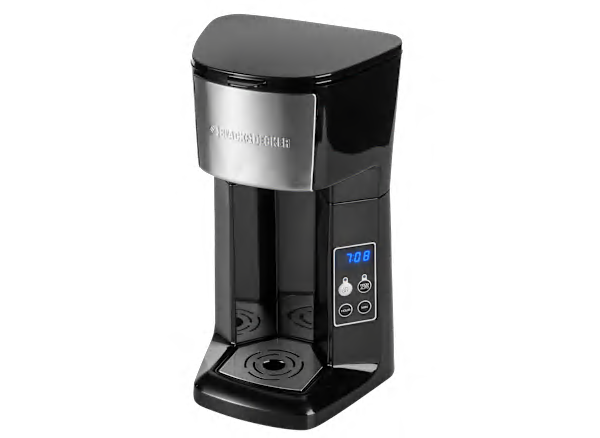 If you want to spend as little as possible on a coffee maker that still delivers a great cup of single-serve, the Black + Decker Single Serve Coffee Maker is worth checking out. It works for you whether you prefer to use pre-packed or ground coffee. Another plus? It only includes one simple control function.
This machine comes with an easy-to-clean permanent filter that saves you money and the environment. The filter basket is removable, making cleanup fast and easy after every brew. The machine brews directly into the 16-oz. travel mug that fits in most car cup holders.
Special Features:
Brew size: 16 ounces
Auto-shutoff
All non-electric parts are dishwasher safe
Attached 16-ounce capacity
Power on indicator light
Pros:
Brews bold and rich coffee
Affordable at only $29.99 on Amazon
Fits a travel mug
Cons:
Chances of splattering when brewing in a regular mug
NutriBullet Brew Choice Pod + Carafe: Best Combo Single-Serve Coffee Maker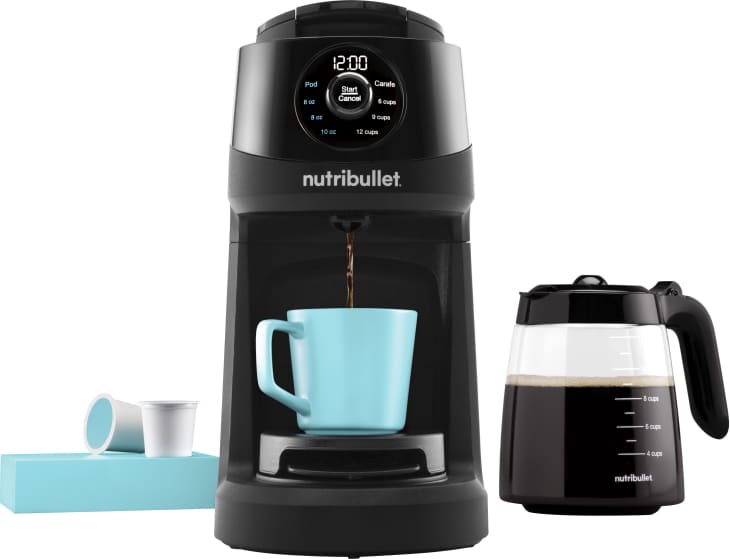 Are there days you find yourself wanting a full pot of coffee and a single cup on others? You won't go wrong with NutriBullet's first-ever coffee maker. You can make single servings of coffee with K-Cup Pods or swap out the pod for a filter to brew a full pot of coffee.
The single-serve pod setting can make 6-, 8-, or 12-ounce sizes, and the carafe has the option of brewing six, nine, and 12 cups of coffee.
Special Features:
Small footprint
Up to 12 cups of water reservoir
Pros:
Fits travel mugs up to seven inches tall
Comes with a reusable pod and a coffee ground scoop
Works with a variety of cup size choices
Cons:
Requires switching between pods and filter for a single cup and full pot options